Mononoke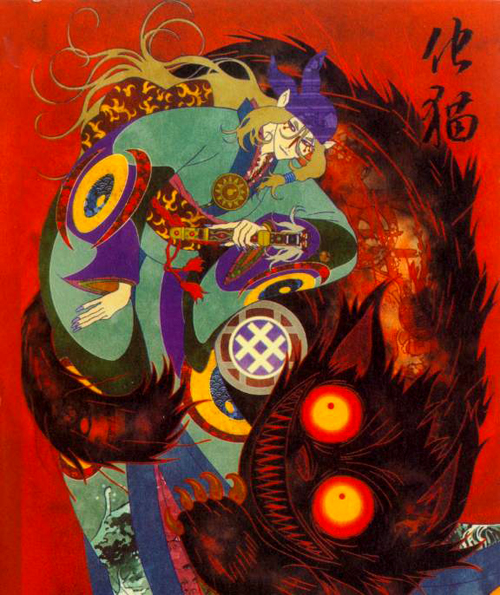 Mononoke
Episodes: 12
Genres: Horror, Fantasy, Mystery, Psychological
Aired: Jul 13, 2007 to Sep 28, 2007
Producer: Toei Animation
What initially enticed me to watch this series was the amazing animation style. The vibrant colors and Japanese style art work give this series alot of charisma. I had also heard alot of people compare this series to Mushishi, a beautiful series about supernatural spirit beings called "Mushi" and how they interact with mankind and nature. I personally felt it bore much more resemblance to Requiem from the Darkness, though not nearly as disturbing. I felt this way because both anime take a close look at humanity, and reiterate that the unknown supernatural may be  frightening, but that human kind is capable of evil far beyond our imaginations.
Mononoke follows a mysterious handsome young man who claims to be a nameless medicine seller, but he is infact more than he appears to be. The medicine seller travels all over Japan looking for "Mononoke" to purify. The anime consists of several mini-stories that focus on the life of people, and how their darkness created these "Mononoke." In order to use his sword of Purification he must first discover the true form of the Mononoke, the truth behind the mononoke's birth, and the regret that has turned the mononoke into a wicked being. Once all three of these conditions have been met he may draw his sword, and he transforms into some god like being.
The story and animation flow together well; I feel like this is more of piece of art than a typical anime.  Its such a unique series that it is almost hard to describe in words. The nameless protagonist is one of the strongest element of this series. The story never elaborates on his past, why he hunts mononoke, or even what kind of supernatural being he is. At times its even hard to tell if he is truely a hero. The mystery, and unpredictability of his character make him a very good base for all the events in the story.  The mononoke in each arc are roughtly based on Japanese mythology, and are each very origenal. I was never scared of them, but was impressed by their immense power and backstory. In each story alot of suspense builds up around being able to see the TRUE mononoke.
The anime isn't completely faultless; many of the side characters are bland and repetitive. Whether it was intentional or not; many of the characters look very similar, and most of them are very ugly (which makes an amusing contrast with the beautiful protagonist.) But these flaws can easily be overlooked. If you are looking for are looking for a very unique series, and have an interest in Japanese mythology, I highly recommend Mononoke.
Pros:
Amazing Animation
Unique Story
Awesome Protagonist
Cons:
On one final note; Mononoke is somewhat of a sequel to the Japanese Horror series "Ayakashi" which I plan to watch in the near future. I hope it lives up to Mononoke's high standards.