Giant Rubber Ducky at Osaka
Over at Osaka, Japan, there is a duck floating. It's huge, it's yellow, and it's made of rubber XD. It's 10m tall! I want to see it in Singapore! I guess many people would flock there just to see a giant rubber ducky ;)
The prosaically named Suito Osaka Rubber Duck Project, designed by Dutch artist Florentijn Hofman, has seen a 9.5m tall by 11m long rubber duck statue floated on the city's waterways, for no particular reason. The duck has previously menaced other cities, but this is its first appearance in Japan.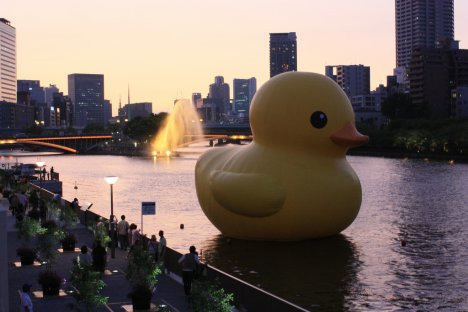 You can view the youtube video below to see how Ducky got inflated with air XD. It's not the one in Japan though, sadly :(
Have you seen this ducky before?
Source: Sankaku Complex