1/7 Takamachi Nanoha Exceed Mode
NOOOO *SCREAMS IN DESPAIR* NANOHA PREORDER JUST STARTED TODAY!
The reason for me screaming is… this will be the other poison besides Fate like only 2 months later. How the hell am I going to make so much money appear?! XD T_T.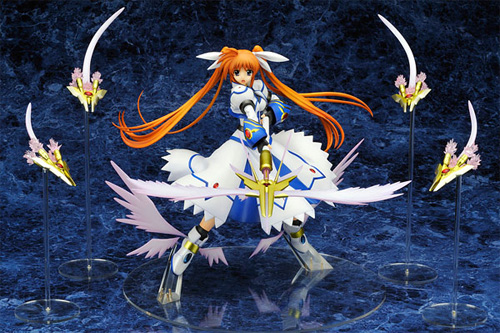 From Nanoha StrikerS series, Nanoha will be in the scale of 1/7 in her Exceed Mode.
Retail price is at 13,440 yen. She will be released in October. Preorders are up at Hobby Search!
Okay firstly, I am happy and unhappy at the same time. Lol. Apparently they're killing us figurine collectors by releasing the two big characters in the same year(and only like 2 months away from each other LOL?!) Hayate was last year.. so expected Fate to be this year and Nanoha to be end December or possibly early 2010. But meh, I am wrong. Lol. Anyway as much as I like to declare she will be my last figurine(Nanoha figs are never ending -_-) I just remembered of the bikini 1/4 Fate that will be out soon(I guess?). And my wallet just died.
And yes, hell yeah I know Optic is definitely getting this. :D