New Gundam 00 Quanta in Gundam 00 Movie!
With the Gundam 00 movie still in production, we get a sneak peak at Setsuna's new mobile suit: Gundam 00 Quanta. The 3 other Gundam Meisters are getting their own new mobile suit as well which should not stray too far from the current design (judging from Quanta).

Anyways, Cosmic-Era went to the Gundam Big Expo back in August, and translated some information about the new mobile suits. Here it is:
00 Quanta, Setsuna's unit. Exia's lineage. It has binders and shield on its left shoulder, as well as numerous Funnels (informal name).
Gundam Harut, Allelujah's unit. Harut and Marut are two angels mentioned in the Qur'an. The Gundam has a visor like the Astraea and the GN Archer. It can transform.
Gundam Zabaniya, Lyle's unit. The Zabaaniyah are the guardians of Hell in the Qur'an. Looks like a close-combat unit. It has a slim torso and big legs like the Virtue. It carries a "GN Armor lite" on its back. Main weapon : Double hand gun.
Gundam Raphael, Tieria's unit. See the Archangel Raphael. It has wired cannons in its fingers (like the Belphegor Gundam) and 4 cannons on its shoulders.

"New GN Drives" were also mentioned.
"It has binders and shield on its left shoulder"
Ah that explains the bulkiness of its left arm XD. So far, there was only that short teaser message which was shown at the end of season 2's final episode. Lets hope a trailer of some sort will be released soon but for now, DON'T TRUST ANY VIDEO ON YOUTUBE WITH THE TITLE: "Gundam 00 Movie Trailer"!!
---
Source(s):
AniMatsuri
|
Cosmic-Era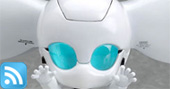 Register a
Gravatar
using the same e-mail address if you wish to have a customized display picture.