Taiwanese TV Show Accused of Copying Zetsubou & K-ON!
Chinese bloggers and forum users are accusing the Channel V television series Wo Ai Hei Se Bang Bang Tang in Taiwan of plagiarizing its animated sequence from the Zan Sayonara Zetsubou Sensei anime series, as well as from the K-ON! anime series.
Watching the first few seconds of the video should get you screaming with rage.
A video at Nico Nico Douga is available for comparison. If you are a user there, do check it out. I was like O_O when I watched the comparison video.
I heard of anime bgm making their way on the local commercials here, though I doubt that anyone realized >_>. Obviously the producers of that show didn't have the right to use part of the music for their show! RAGE!! What about you? Heard any anime music on your local shows when you know they obviously shouldn't even be used?:/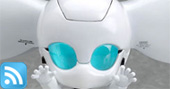 Tagged as: Copyright, K-ON!, Sayonara Zetsubou Sensei


Comments
Trackbacks
There are no trackbacks
Register a
Gravatar
using the same e-mail address if you wish to have a customized display picture.