Hetalia Season 3 To Come!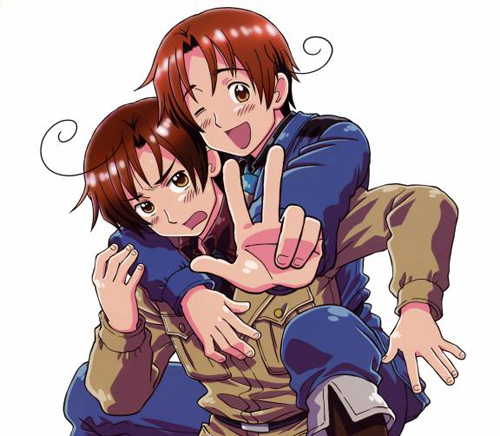 A third season of Hetalia Axis Powers has been announced to start airing in March of 2010. The current season will be ending in the upcoming weeks, so there will be a season gap till then. In case people are really far behind in news, a Hetalia Movie is also planned to be released in 2010.
For those who do not know Hetalia, it is the best anime… in perhaps the last decade. I'm sure there are many who may not agree with me, but I am a crazy fangirl of this series… thus I refuse acknowledge the dissenters' exsistance o____o
This anime takes all the countries of the world, and turns them into human individuals, giving them interesting and occasionally disturbing characteristics based on History and steryotypes. Each episode takes historical circumstances, and political alliances, and makes them gut busting hilarious. Being a History Major, An anime fan, and a closet Yaoi Fan, this series golden. (Don't worry… the anime is only half as gay as the image above makes it look… the manga on the other hand….)
Since I am also an avid reader of the manga I was aware there is still ample material to work with… but I did not expect another season for some reason.  Each episode of the anime is only 4.25 minutes long (excluding the intro and ending), so even though there will be around 50 episodes at the end of the second season, this is only approximately 10 normal episodes long! Given a whole third season to work with… I will not forgive them if they do not animate the Christmas Chapters, Chibi-Hungary/Prussia Chapters, and most of all… the Valentine's Day chapters! Some more of Poland/Lithuania would also be appreciated, as well as Korea… But since Real Life Korea protested the anime there is a very high chance he won't be making an anime debut D=
Me and Zenical must have made a Hetalia post at about the same time… here is what she had to say about it:
"Waiting for Fangirl Bluesnow to post this up.. But she didn't :(. So I will do the honors for her! More pasta for Bluesnow once more, as Hetalia has been given the green light for a third season! Hooray!!…I'm still not watching the anime series despite Blue's attempts to influence me to catch it. Maybe it's because she hyped too much that I just lost the interest. Maybe I'll be able to stream the shows off my phone when I'm on the way home from school since I have 12GB of data usage to waste-_-."
I must work on my convincing skills so it seems… maybe I should start spamming her more hetalia related stuff again every five minutes xD
In celebration of this momentous occasion!
Source: ANN