GSC Sales List 2009
As 2009 is ending.. Let us reflect on the various topics. Like for this post, what are the figurines purchased for 2009? For GSC, this is their Top 20 Figurines Sale List. So out of 20, how many have you purchased?
Top left corner is Rank 20, bottom right corner is Rank 1.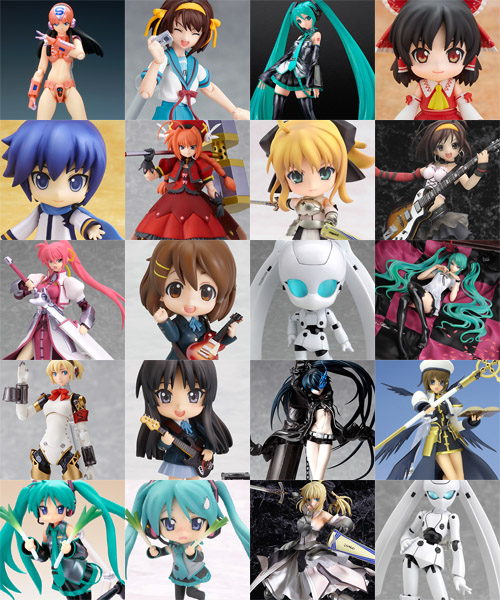 20th figma Princess Sakura (original version) JPWA Tag Tournament
19th figma Haruhi Suzumiya summer clothes ver.
18th PVC Miku Hatsune
17th Nendoroid Reimu
16th Nendoroid KAITO
15th figma Vita Knight dress ver.
14th Nendoroid Saber Lily
13th PVC Suzumiya Haruhi Extravaganza Ver.
12th figma Knight Signum clothes ver.
11th Nendoroid Hirasawa Yui
10th Nendoroid Dorosseru
9th PVC Miku Hatsune the worl
8th figma Aegis
7th Nendoroid Mio Akiyama
6th Black ★ Rock Shooter
5th figma Hayate Knight dress ver.
4th figma Kagami (miku cosplay ver.)
3rd Nendoroid Mikkumiku Kagami
2nd PVC Saber Lily
1st figma Dorossel Fireball
Out of the entire list.. I only have 7 on my list. What about you? If you have over 15 figurines on this list, you know where your monies went to this year :3.
Source: Mika-tan's Blog