Shelter Yourself With K-ON! Umbrellas
Is it raining? Do you love K-ON! and is in need of an umbrella? Rain will never be the same when you purchase this kawaii umbrella featuring the each of the K-ON! girls. :3 Made by Chara-Ani, it's my first time seeing umbrella releases from them, unless I missed some other umbrellas they produced previously ^^"
A total of 5 designs to order! Featuring Yui, Mio, Ritsu, Mugi or Azusa. :D.
Retail price is at 998 yen each, scheduled to be out in April 2010. Preorder over at Hobby Search or Otacute.
Lovely umbrellas! Show your love for your K-ON! girl XD.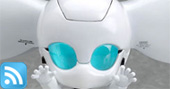 Tagged as: Char Goods, Chara-Ani, K-ON!


Trackbacks
There are no trackbacks
Register a
Gravatar
using the same e-mail address if you wish to have a customized display picture.