Zotaku Version 2: New Layout
Last night I broke the theme layout of Zotaku by updating the Wordpress Version. Currently we were using Wordpress 2.3.3, and it's a EXTREMELY old Wordpress Version. I finally decided to upgrade the version to the latest one, 2.9.1. And thank god it worked. I don't know how to update it manually as I'm very lazy, so I used an automatic update for the blog.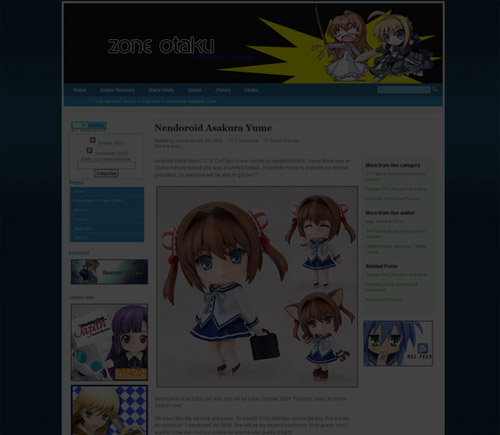 The old layout broke, and I decided to go ahead using this theme temporarily. So far it's looking good after some customizations by me and guuzen.
Changes in V2:
Threaded Comments
Tweeting Blog Post to Twitter (Follow me! – EDIT: It works!)
New Social Bookmarks
New layout
New temporarily banner with mascot chan
New RSS Banner with Feedcount appearing on it!
Compared to the old layout, the recent posts do not get aligned in order on the main page, like any normal blog you see. However, the current layout is! The Headline and Featured section on the main page will show stickied posts, and scrolling below, you can check out the recent posts!
Also you can view the next page of the recent posts – what the old layout couldn't.
I am still in the midst of fixing the layout, posts might be slow and all, but do continue checking back!