Kuroshitsuji Season II This July 2010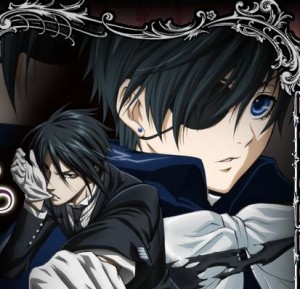 After much waiting, the second season of Kuroshitusji has been officially announced to air in July of this year. Perhaps an even more shocking announcement was the fact that our beloved Sebastian and Ciel (above) will not be the main protagonists of this season. There had been some fan speculation that this would be the case, taking into account how the first season of the series ended, but even I am a bit shocked that the show will be featuring a new anime origenal pair as the main characters. The new butler's name will be Claude Faustas, and the new master will be Alois Trancy.  The announcement did not specifically say that Ciel and Sebastion were going to be completely excluded from the story, nor did it give anymore details about the plot or setting. We don't even get a picture of the two new characters yet!
I personally was in love with Sebastian, so it might be a little bit hard to accept a replacement butler too easily. Hopefully season two lives up to the quality of the first season.
Source: ANN