PS3 Slim Or Xbox 360 Slim? New Xbox 360 Doesn't Have Red Ring of Death!
Here's a comparison picture of the PS3 Slim vs the Xbox 360 Slim. For folks who have yet to purchase either of the consoles, which will you choose? The new Xbox 360 Slim looks glossy, wonder if it's as glossy as my PS3 Phat?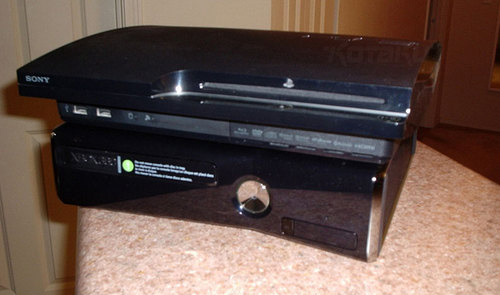 Also, Microsoft has reported that the new Xbox 360 Slim won't be displaying any more of those "Red Ring of Death" lights. As you can see in the charts below, the Ring of Light doesn't include Red. Er.. So we will have a Green Ring of Death? XD
However, according to Microsoft's support team, though there won't be anymore red ring to signify hardware failure, it will still indicate an error by switching its power indicator (the light in the centre of the ring) from green to red. So I guess it will be the Red Dot of Death then :X.