New Yumeiro Patissiere's Series to Start in October
Every Sunday morning, I would catch Yumeiro Pastissiere. So far 46 episodes have been aired. Only 4 more to go before the show ends. Quite frankly I was a bit disappointed that the show was going to end so soon. I love the Sweet Spirits in the show (little chibi characters helping the humans in their dream to become a Patissiere)! Looks like I won't be disappointed after all.
The October issue of Shueisha's Ribon magazine has confirmed that a new Yumeiro Patissiere anime series will premiere on October 3. The anime series will be titled "Yumeiro Patissiere Professional".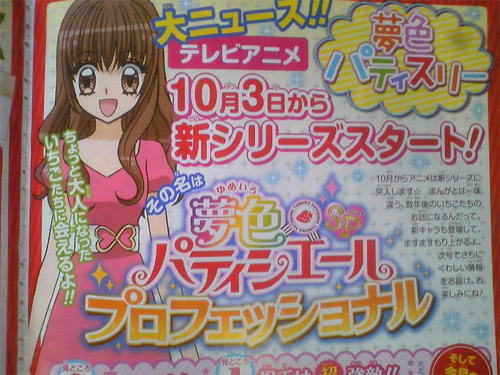 Unlike the first television series, which adapted the shoujo manga by Natsumi Matsumoto (St. Dragon Girl) about a teenaged pastry chef trainee, the new series will take place several years later. The former trainee, Ichigo Amano, is now an adult, and the cast will add new characters. More information on the new anime will be provided in the November issue of Ribon.
Interesting. I always like shows whereby the characters grow up and we will be watching their adult life. Can't wait for it XD.
Source: ANN