Nyan Nyan! Azunyan Is Saimoe 2010 Winner
It's been quite some time since Saimoe 2010 started, and while I wanted to do a coverage on it, I was quite busy with school starting and all. And yes, the winner of Saimoe 2010 tournament is Nakano Azusa! Wow I know she is popular, but not this popular XD.
Here are the images of the various groups, taken from Moetron. Cropped the images of each respective groups so you can slowly browse through :P
Group A
My Picks
Round 1:  Miki Noda, Maria Ushiromiya, Kazumi Yoshida, Hanyuu, Nadeko Sengoku, Namiko Nozaki, Tsubasa Hanekawa, Minami Shimada, Nagi Sanzenin
Round 2: Miki Noda, Nadeko Sengoku, Nagi Sanzenin
Final: Nagi Sanzenin

Group B
My Picks
Round 1: Kaede Mizuno,Ryou Fujibayashi, Shana, Asahina Mikuru, Nanoha Takamachi, Kana Ikeda, Alicia Melchiott, Shinobu Oshino, Kaori Senou
Round 2: Shana, Nanoha Takamachi, Shinobu Oshino
Final: Shana
Group C
My Picks
Round 1: Yuuki Kataoka, Holo, Nodoka Manabe, Maria, Hisa Takei, Mii Konori, Mihoko Fukuji, Hajime Kunihiro, Nodoka Haramura
Round 2: Yuuki Kataoka, Hisa Takei, Mihoko Fukuji
Final: Maria

Group D
My Picks
Round 1: Misaki Ayuzawa, Saki Amano, Wilhelmina Carmel, Koromo Amae, Kuroko Shirai, Kyou Fujibayashi, Athena Tennos, Otome Tsuzuki,  Aisa Himegami
Round 2: Wilhelmina Carmel, Kuroko Shirai, Hiro
Final: Koromo Amae

Group E
My Picks
Round 1: Utau Hoshino, Index, Lisa, Masami Iwasawa, Aoi Yamada, Ranka Lee, Cecily Campbell, Kana Nakamachi, Komoe Tsukuyomi
Round 2: Kanade Tachibana, Masami Iwasawa, Kana Nakamachi
Final: Kanade Tachibana

Group F
My Picks
Round 1: Mako Someya, Lily Shiraishi, Kaede Sakura, Rima Mashiro, Hinagiku Katsura, Sawako Kuronuma, Hitagi Senjougahara, Ritsu Tainaka, Airi
Round 2: Yui, Rima Mashiro, Ritsu Tainaka
Final: Hitagi Senjougahara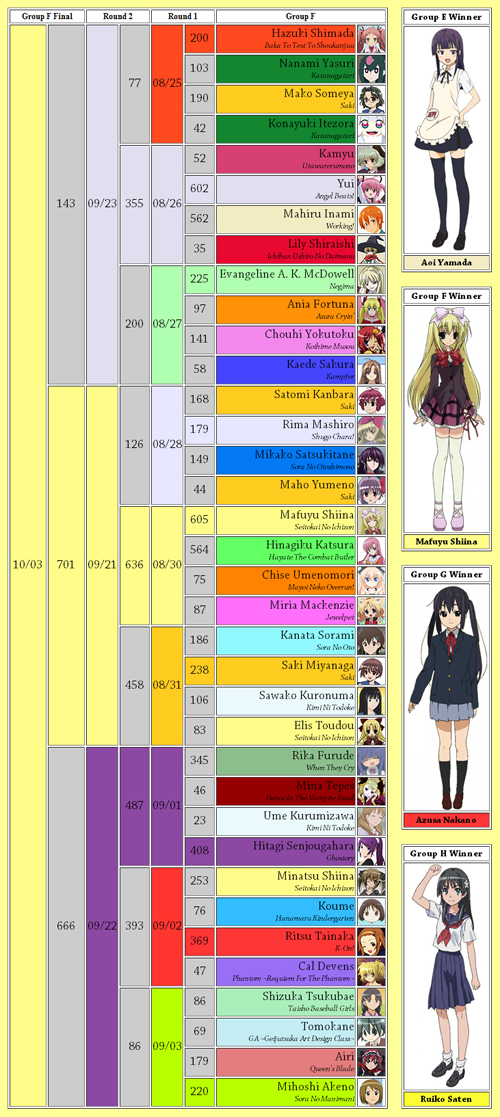 Group G
My Picks
Round 1: Mikoto Misaka, Akane Mishima, Lala Satalin Deviluke, Touka Ryuumonbuchi, Poplar Taneshima, Azusa Nakano, Mio Akiyama, Kobato Hanato, Alisa Bannings
Round 2: Mikoto Misaka, Azusa Nakano, Mio Akiyama
Final: Mikoto Misaka
Comment: This round sucks because those character I like are in the same group. Misaka Mikoto is hot, but Azusa obviously had more fanboys. Lol. Maybe she should do a "nyan" in the OVA :X.
Group H
My Picks
Round 1: Golden Darkness, Fate Testarossa, Isara Gunther, Ruiko Saten, Tsumugi Kotobuki, Shouko Kirishima, Amu Hinamori, Fumino Serizawa, Maya Matsumoto
Round 2: Fate Testarossa, Ruiko Saten, Amu Hinamori
Final: Fate Testarossa
Comment: This is the most disappointing round.. Fate actually lost to Saten. Omg. Also in Round 2, quite interesting to see that Amu Hinamori and Fumino Serizawa were competing for the winner spot when they're both characters voiced by the same seiyuu :D

Click on the picture below for Quarter finals, Semi-finals and finals. Didn't bother to read the news because Fate is not there D: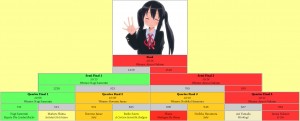 Click for larger image