PSP go See Its Price Slashed as PSP2 Details Emerge
Sony has announced price cut for the PSPgo, the ill-fated cousin of the still highly popular PSP, in US and Japan.
For anyone who is interested, you can now nabbed the console at 16800 yen or US$199 instead of the original price of 26800 yen or US$249. Alternatively, you can scout the various forums, eBay or auction sites for poor souls who have lay hands on this system and are now trying recoup whatever amount they can.
Incidentally 16800 yen is also the current market price for new PSP-3000 in Japan. Whether gamers will be encouraged by this price drop to pick up the PSP go instead of the PSP-3000 remains to be seen, but I highly doubt so.
According to reports, the PSP go is selling less system than the not so-popular-in-Japan Xbox 360 and, yes, the PS2 which is celebrating its 10 year anniversary this year.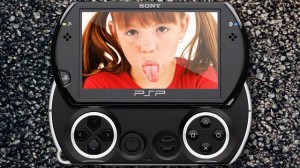 The little girl's face says it all.
At the same time, more details have begun to emerge for the rumored PSP2. Insiders have said that a prototype of the console was shown to invited guests at at private event during the Tokyo Game Show.
The PSP2 is said to feature a much wider screen that is an inch larger than the current PSP and featured close to HD quality graphics. "Close to" because according to those present in the meeting, Sony only touted it as HD. The control scheme for the system would be similar to the Playstation controller with dual analog sticks and the conventional buttons. However, the PSP2 is said to have a touch screen at the back of the console that function very much like a mouse trackpad. Sony did not mentioned exactly what the touch pad is used for but is said to have left it to the discretion of developers to explore.
Insiders also mentioned that during the private meeting, two prototypes, one featuring the slide design like the PSP go and another with the current brick design, were shown as Sony has yet to finalize on the design.
No official word has been released by Sony regarding this successor to the PSP. However, many have predicted that the system would hit shelves sometime in late 2011.
I am very curious though how a touch pad at the back of the console can be utilized for gaming at all. More importantly, would that means that there is no space for the UMD drive?  Is this really a PSP go successor?