Hoshi o Ou Kodomo Teaser Trailer
Media Factory has uploaded a teaser trailer for Makoto Shinkai's latest work: Hoshi o Ou Kodomo (Children Who Chase Lost Voices From Deep Below)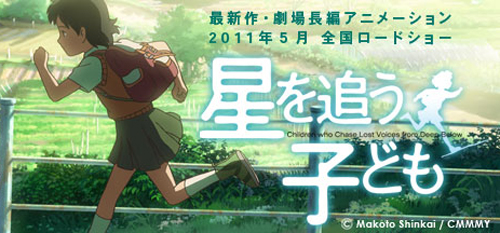 The story centers on Asuna, a girl who spends her solitary days listening to the mysterious music emanating from the crystal radio she received from her father as a memento. However, she embarks on a journey of adventure to meet a boy again, and thus comes to know the cruelty and beauty of the world, as well as loss.
Another film by Makoto Shinkai that I am definitely not gonna miss! For those of you who have seen his past films should be happy to know that he is teaming up with Tenmon again to produce spectacular visuals accompanied with beautiful emotional orchestral. Apart from making movies and short stories, Shinkai also helps in producing animation for TV commercials and opening videos for visual novel company Minori.
If you are interested to find out why his works are receiving so much praise from critics, you can try out these three titles:
Hoshi no Koe (Voices of a Distant Star)
Kumo no Mukou, Yakusoku no Basho (The Place Promised in Our Early Days)
Byousoku 5 Centimeters (5 Centimeters Per Second)
Hoshi o Ou Kodomo is set to be released for Japan cinemas on May 2011.
Source(s): ANN