CDJapan and HLJ: Donating Part Of Their Sales
Dear folks who are regulars of CDJapan and HobbyLink Japan. For the next two weeks till March 31st 2011, when you purchase items from either of the websites, part of it will go to the Japanese Red Cross.
I'm sure all of you know by now how serious the earthquake is in Japan. Many are left homeless. In addition radiation level is on a raise. We can do our part by donating to the Red Cross.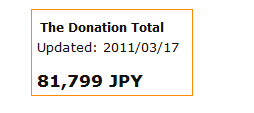 For items ordered between March 16th to March 31st 2011, 2% of CDJapan's profit will be donated to the Japanese Red Cross.

HLJ will be increasing the prices of their products by 2%. In addition they will donate 2% of their profit. In total they will be donating 4% to the Japanese Red Cross.
Of course you can choose not to purchase items to "donate". You can donate directly to the relief agencies.
Or head on to CDJapan or HobbyLink Japan!