I was browsing around Hobby Search when I saw the price of the PG 1/60 00 Raiser. It's very expensive!!! O_O.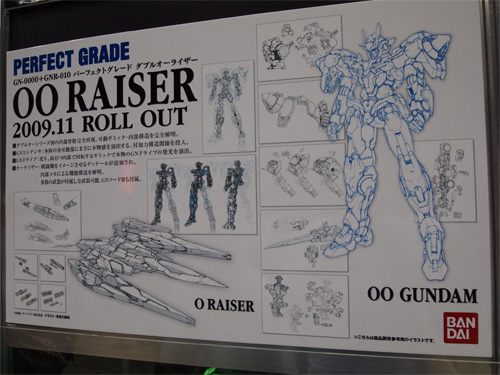 According to Amiami, it seems that the initial batch release of PG 00 Raiser will offer buyers a cool addition.
・初回生産購入特典:オリジナルベース
2種のアームに、ダブルオーガンダムとオーライザーをそれぞれ単独で飾ることができ、それぞれのアームを可変させることで、合体時のダブルオーライザーを飾ることも可能。
It means: Original Base – Two types of arms to mount O Raiser and 00 Gundam. Joints are adjustable. Can combine to mount 00 Raiser.
Retail price of the kit is at 26,250 yen. Will be out this November 2009. Preorder yours at HobbyLink Japan or Hobby Search.
Wow the price is just… awesome. Too expensive for me, the furthest I went for a Gundam Kit was a MG one XD. Wonder who will be getting this?
I like anime, music and seiyuu. Fan of fripSide, Kalafina, Sachika Misawa, Nana Mizuki, SCANDAL, StylipS, Yui Horie, YUI and yuikaori.