Fate/Stay Night Unlimited Blade Works will be aired on January 23, 2010 and Studio DEEN has released another trailer for it. For those who have missed the first one, you can view it here.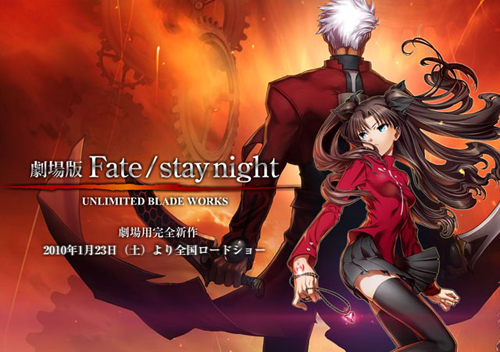 I am looking forward to the movie because I heard that it is a pretty important part in the Fate story. For those people who manage to get a copy of the original game should know the importance as well I think. I have only watched the anime series and as you all know, it did not focus on the Unlimited Blade Works at all. The only thing that viewers can get out of it, was that UBW is Archer's special move. I enjoyed watching FSN, so this movie is top priority to me.
Unlimited Blade Works is one of the Winter anime releases. If you wish to see a list of other anime that this season has to offer, you can go over to our Winter 2010 line-up post and maybe even drop a comment telling us what you are looking forward to this season!
a student who loves watching anime and playing video games. My first video games date back in the DOS era. As for my first anime series? I started watching them at around the age of 11. Until now, I have been loving both anime and video games and my interest for them are still growing strong.