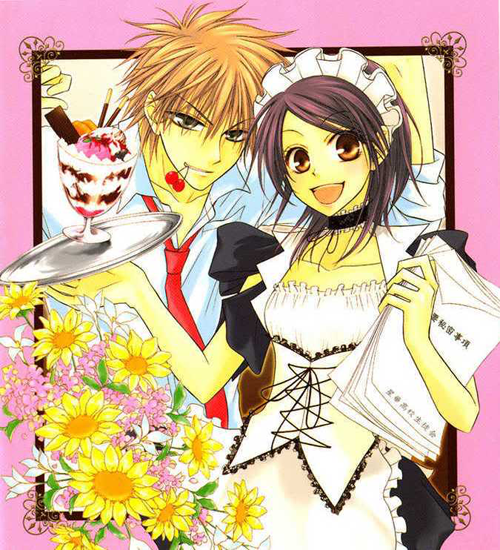 A while back I heard about a series called Kaichou wa Maid-Sama! (Class President is a Maid!) which was going to be animated this spring. After hearing alot of recommendations about it I decided to cheat and try out the Manga before it is released in April. I have to admit… at first I was quite hesitant. I personally prefer something more of the Butler Variety (there actually are butlers in this eventually, so I forgive it), but this series did exceed my expectations.
Kaichou wa Maid-Sama!
Volumes: 11 (Ongoing)
Genre: Shoujo, Comedy, School, "Romance," MAIDS!
Publisher: LaLa
The story revolves around a girl who ends up in a school in which the demographics of the student body are 80% male and only 20% female. The school used to be an all boys school, and had only recently started enrolling girls, but because the school has a bad reputation very few girls were willing to go there. Our  stories protagonist Misaki is a very strong willed girl, and takes it upon herself to become the student body president and make the school environment more tolerable for the female students. She tends to rule with an iron fist, hates men, and will not hesitate to beat the crap out of the boys who don't follow her rules. She earns both the fear and respect of most of the student body. Besides being so strong willed she's at the top of the class and appears to be very mature.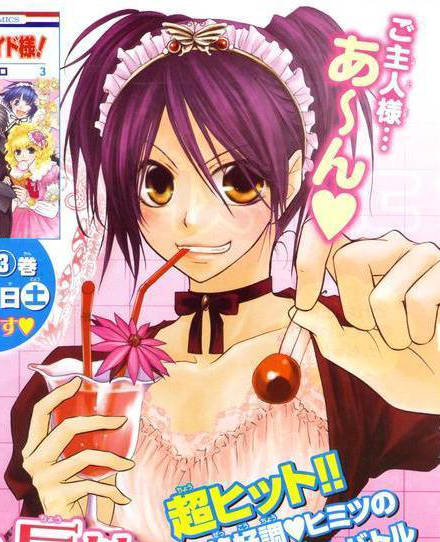 That is what Misaki appears to be on the surface at least… but after school ends she heads to her secret part time job at a maid cafe! Its kind of an ironic job considering she detests men as much as she does, but we soon learn that her father abandoned the family leaving a huge debt, and she's working hard to help her family and pay her tuition. Misaki somehow manages to balance her Grades, Work, Money, and responsibilities as the class president. Things seem to be going well until her secret is spilled. The coolest guy from her school, Takumi Usui, happens to find out about her job. He may be cool and good looking, but his personality is extremely irritating to Misaki. He is showing up at the shop EVERY SINGLE DAY, and she is worried he might black mail her about her secret job. We quickly find out though that this guy is either a crazy playboy stalker, or has fallen in love with her. He is willing to jump off the school roof to keep her secret safe if that will make her happy.
The plot itself doesn't seem that original, but I've still enjoyed it so far. The female character has a kind of Newtype-Shoujo character; a character like Haruhi from Ouran. She has alot of inner strength which is different from traditional shoujo characters, but at the same time she's girly deep down. She also seems to have some weird obsession with cross dressing which also reminds me alot of  Haruhi from Ouran. Usui the main male character also has some atypical traits for a shoujo series. First of all… he's a stalker. The manga never explicitly calls him this, but every time Misaki goes anywhere, he is there watching her!!! Also, while Usui takes up the "Perfect at everything" and  "strong will protect my lover at all costs" type character, he's emotionally pretty weak and confused. He actually reminds me a little bit of Tamaki from because of his family situation and princely airs, but Usui is much more aggressive,  intelligent and emotionally aware of his feelings for Misaki right away. There are one or two characters introduced later that I also like alot (A TRAP, and a childhood friend with an insatiable appetite… but I won't spoil too much of the series before it even airs.) Actually my favorite three characters are the "idiot trio" which don't even have an important role in this story xD
Since the manga is still ongoing I'm worried what the anime will do to end it (really, why can't they wait for these things to end before animating them!?). I look forward to this in spring, and recommend comedy fans to watch it as well.