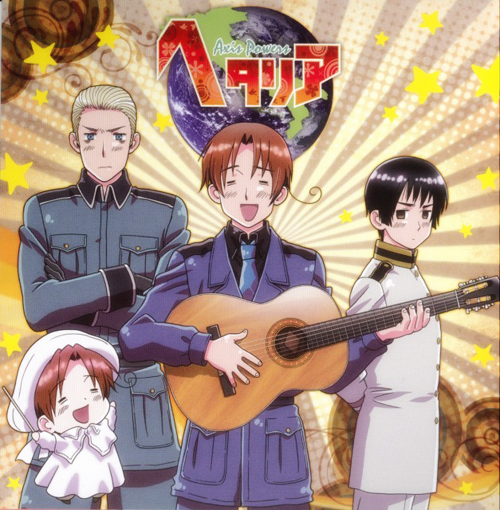 Hetalia Season 3 Starts Today!!—–> Update: Hetalia Season 2/3 transition episode was released.
Apparently episode 52 which was released at the time of this post was infact the final episode of season 2 airing 3 months late. The first real episode of season three starts on March 26th. Time to start counting down!
How my favorite ongoing series managed to pop up so unexpectedly is a surprise to me. Earlier today I was reminded that Hetalia season 3 was supposed to start some time this month. Since I had yet to actually see a specific date I started off by googling "Hetalia Season 3″…. this proved to be unsuccessful since these were the results I found: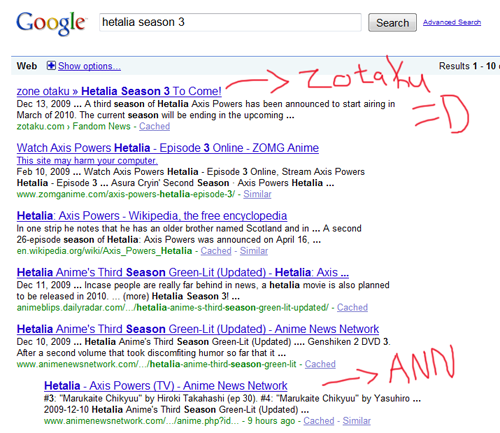 Apparently my love of Hetalia is obvious to even google if the post I wrote came up as the #1 result =D
But none of these results, mine included of course, gave a solid date about when Hetalia was to start airing. After this I checked My Anime List to see if they listed a date, which they did not, but out of the corner of my eye I spotted a discussion thread for episode 52! Apparently the first episode of the third season last episode of the second season was released today!
So this post is a reminder to all hetalia fans that the Third season started today! Since even I didn't know I'm sure there were alot of others in the same boat as me! Go and enjoy. I have to say I nearly passed out laughing at the chibitalia… poor Holy Roman Empire.
Also go watch this amazing 11 minute tribute by the good people at NicoNico Douga.
Source: Hetalia Wiki