Here is this week's edition of Zotaku's Weekly Check-In! Sorry on the late post again =(.
---
This week, we are covering:
Ano Hi Mita Hana no Namae wo Bokutachi wa Mada Shiranai
Hanasaku Iroha
---
Ano Hi Mita Hana no Namae wo Bokutachi wa Mada Shiranai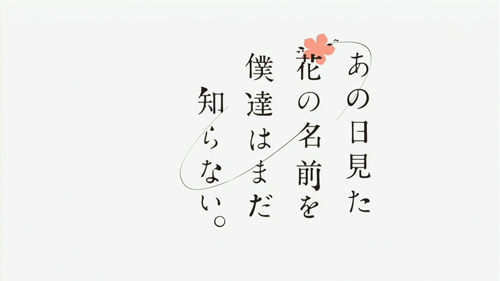 - Guuzen -

This anime came as a pleasant surprise for me. I was pretty happy with Hanasaku Iroha satisfying my Drama/Slice of life needs, and then this came along. This season is starting to look better and better.

Ano Hana focuses on a group of kids who were best friends when they were little. But as time passes, each of them changed whether its interests or character. As a result they drifted apart and went on their own ways. However one of their friend, Menma, was a little strange. In the past, everybody could see her and play with her. But now it seems like only Jinta is able to. It was revealed later in the episode that Menma was actually dead and Jinta, being the closest to her when they were young, probably took the news the hardest and so was either hallucinating or the only one who could see her spirit. With that in mind, Menma's death could be the main factor of the kids' separation.

The first episode dived right into the middle of the action, where Jinta was reaching breaking point and decided to cast his hallucination of Menma away for good. Afterwards Jinta felt empty without "Menma" around so went and look for her in their so-called "headquarters" where they always hung out when they were young. There was a small flashback of their past showing how tightly bonded those kids were and also revealed Menma's death for a brief moment.

I honestly can't wait to watch the next episode. As much as I want to find out what happened exactly and the process of their separation, I am also interested to see what lies ahead for these kids. I am looking forward to the drama and the steps that they are going to take to reach the (hopefully) inevitable reunion.
Hanasaku Iroha
- Guuzen -

As mentioned above, this is the other Drama/Slice of life show that I am watching this season. Three episodes had been released so far but I have only watched two and I enjoyed it a lot. I will be following Hanasaku Iroha closely this season.

The story centers around Matsumae Ohana who has been sent to her grandmother's inn by her extremely irresponsible mother who ran away to live with her boyfriend. This turns out to be Ohana's nightmare because her grandmother is really strict, telling her that she had to work in the inn if she is going to live there.

It's not just her grandmother who is giving her a hard time. The inn's staffs are not exactly easy to get along as well, probably due to her grandmother's strict personality. Throughout the series we can probably expect to see Ohana coming into terms with the staffs there and then her cold grandmother will probably show some warmth and kindness. I really can't wait to experience all the drama in the upcoming episodes.

For a show that is 26 episodes long, the art is exceptionally good. I was reminded fondly of Clannad as I watched the water glisten in the sun and the beautiful evening color palette. To have 26 episodes of such quality visuals really made my day.