The Volume 3 DVD release of anime series Papa no Iu Koto o Kikinasai! will be out on 6 June 2012. Contains Episodes 7-9. Comes with a booklet.
Plot Summary
College student Yūta Segawa is suddenly given custody of his older sister's three daughters, aged 14, 10, and 3. They're now stuck living together in a 10 square meter apartment. Meanwhile Raika, the object of his affection, has a fondness of cuteness, and his unexpected arrivals may finally offer an opportunity for them to get together.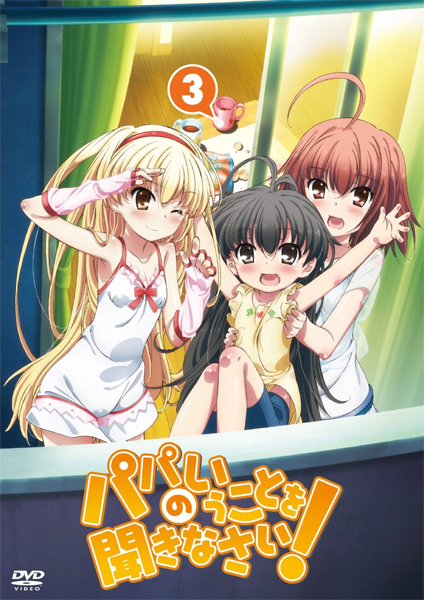 Anime Title: [DVD] Papa no Iu Koto o Kikinasai! Vol.3
Catalog Number: KIBA-1944
Release Date: 6 June 2012
Retail Price: 6,300 yen
Preorder at: CDJapan
I like anime, music and seiyuu. Fan of fripSide, Kalafina, Sachika Misawa, Nana Mizuki, SCANDAL, StylipS, Yui Horie, YUI and yuikaori.