Popular Japanese girl band SCANDAL has been announced to provide the theme song for the upcoming movie "Ore wa Mada Honki Dashitenai Dake" which stars Tsutsumi Shinichi. The theme song titled "Awanai Tsumori no, Genki de ne" is said to be a straight rock number, and it's a love song which everyone can relate to.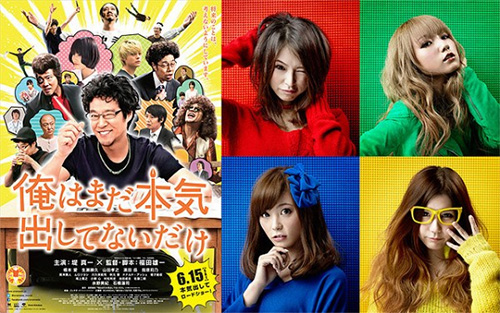 The movie is a live-action movie adaptation of the manga which made it on the 'Kono Manga ga Sugoi!' ranking in 2009, and more than 20 companies are said to have sent mangaka Aono Shunju offers regarding a live-action adaptation. The story follows a daily life of a failed father named "Oguro Shizuo" (played by Tsutsumi Shinichi) and his family. Shizuo suddenly quits his job at age 41, to find his true self, but he spends all his time playing soccer games. One day, he randomly decides to become a manga artist.
The preview of the song is available here!
SCANDAL single "Awanai Tsumori no, Genki de ne" is scheduled for release this May 22! Looks like it's another round of preorder for me!
Source: TokyoHive
I like anime, music and seiyuu. Fan of fripSide, Kalafina, Sachika Misawa, Nana Mizuki, SCANDAL, StylipS, Yui Horie, YUI and yuikaori.