The official website of Senki Zesshou Symphogear G has revealed that the sequel anime will premiere this July.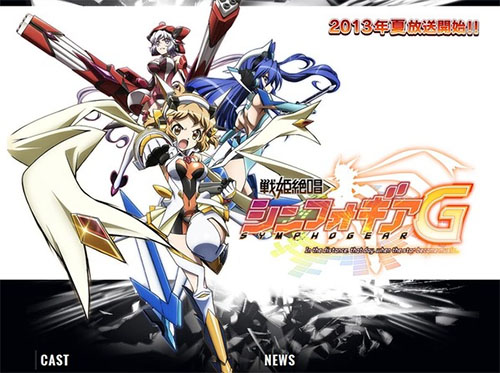 The returning seiyuu cast:
Aoi Yūki as Hibiki Tachibana
Nana Mizuki as Tsubasa Kazanari
Ayahi Takagaki as Chris Yukine
Yuka Iguchi as Miku Kohinata
Hideo Ishikawa as Genjūrō Kazanari
Souichiro Hoshi as Shinji Ogawa
Kenji Akabane as Sakuya Fujitaka
Asami Seto as Aoi Tomosato
Mikako Komatsu as Kuriyo Andō
Nao Tōyama as Shiori Terashima
Chinatsu Akasaki as Yumi Itaba
Tokyo MX channel also aired an announcement video, which is viewable below.
The first season of the anime series previously aired in January 2012.
Source: ANN
I like anime, music and seiyuu. Fan of fripSide, Kalafina, Sachika Misawa, Nana Mizuki, SCANDAL, StylipS, Yui Horie, YUI and yuikaori.