According to the July issue of Dengeki Daioh magazine, a manga about the Kakumeiki Valvrave's Saki Rukino character will launch in the follwing issue in June. The manga is titled Kakumeiki Valvrave Ryuusei no Valkyrie and will tell the story of the heroine during her time as an idol and other events.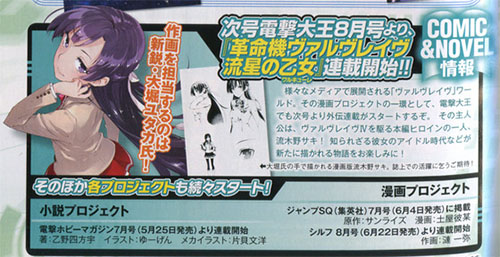 A novel project will also set to debut in the July issue of Dengeki Hobby Magazine.
With so much hype around the Valvrave anime, it is no doubt that there will be more side stories etc picked up!Is Kakumeiki Valvrave on your watchlist this season?
I like anime, music and seiyuu. Fan of fripSide, Kalafina, Sachika Misawa, Nana Mizuki, SCANDAL, StylipS, Yui Horie, YUI and yuikaori.